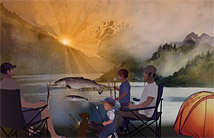 These are just the most gorgeous
eCards
, or cards for that matter, that I have ever seen! I am spending way to long previewing all of these;)
These are a very nice idea for
Father's Day eCards
!
You can join Ojolie for only $12 a year, or grab the better deal at $18 for 2 years! and they even offer free eCards! There are tons of beautiful cards and they are all animated and hand painted!!
They are all breathtaking and absolutely stunning! You can surely find any card to fit your needs, all occasions, types, all year cards, and I am certain the receiver of these animated cards will truly go head over heels over these!
I wouldn't mind grabbing a couple for myself. Maybe i should get my husband a membership;)
I watched this eCard 3 times now...
The story behind this site and their business is also very fascinating! You can
read about Ojolie, a husband and wife team here.
Check out their
Facebook page here!
Please leave any comments below and let us know if you ever used this service or any like it, which one is your favorite?