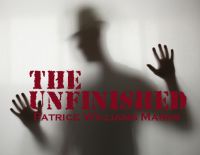 I was more then pleased with this book. It isn't very often that a book with less then 20 pages, that isn't a children's book, really grabs my attention and ends up being one of the most original stories I ever read.
My only complaint would be that I would love an actual mini series or possibly a new book with a lot more pages! This has a lot of potential to be a super mystery, detective, science fiction, and everything in between, novel.
It amazes me that this author was able to create such a unique story, (this is something you don't see so often anymore), and introduce so many characters, give short descriptions of backgrounds, the plot, thoroughly explain what is happening, answer your questions, and deliver such a magnificent ending, in less then 20 pages.
Of course I understand the reason behind the short story, after all, it is a short story, but inside, I am wondering or maybe it's more along the lines of hoping, that this was released to see what we would think and that maybe there is a best seller coming our way in a year... hint hint!!
I am a big horror, action, science fiction, creepy, mystery, crime, fan, and I read and watch a ton in this genre. This is truly something that had me on edge and dreading the little arrows on the bottom of the screen when I saw I hit the double digits.
I agree with the reviewer who stated that, The Unfinished, reminded them of, The Twilight Zone. I have seen every Rod Serling story, at least 20 times each and still record them on my DVR, lol. The Unfinished would be an episode he would be proud of.
I recommend this book to all scifi fans, any fans of The Twilight Zone, and please, if we get enough people to read and post their thoughts, maybe we can persuade the author to give us more!
You can buy this book on Smashwords.
I received one or more of the products mentioned above for free using
Tomoson.com
. Regardless, I only recommend products or services I use personally and believe will be good for my readers.