This is a Sponsored post written by me on behalf of Bahama Breeze for SocialSpark. All opinions are 100% mine.
Summer is always the best time of year for fresh, tasty, fruit, outdoor concerts, live music, parties, the beach, and mojito bars.
If you love all of these things, and you dream of scrumptious, frozen drinks, that you can drink right out of the pineapple, then, you should probably head over to the closest, Bahama Breeze Island Grille, as soon as possible!
Bahama Breeze Ultimate Pineapple
This is why, Bahama Breeze, is the summer destination for good times!
Bahama Breeze Summer Beach Bash
Thie Summer Beach Bash at Bahama Breeze, started June 23rd, but no worries! You can still try their exoticly delicious new drink, The Ultimate Pineapple, through, August 3rd!
Better yet, make it on a Saturday, and Bahama Breeze will turn up the live music, AND bring out the mojito bar! What"s a mojito bar? Well, it is probably one of the most fabulous fun parts about Saturdays in the summertime!
The bartenders will bring out the fruit and the rum, and you get to choose your adventure! You even get to see the bartenders creating your own, personal, dream come true drink! (Always remember to drink responsibly, have a designated driver, because if you are anything like me, you may want to try a different rum in each different kind of fruit!)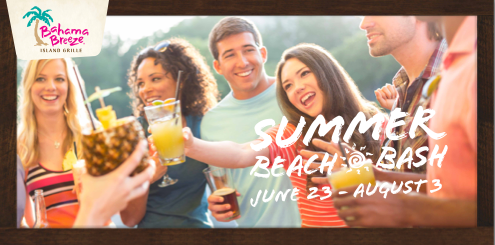 Just when you think this probably couldn't get more fascinating, guess what? It is!
Bahama Breeze is running an "Instagram Selfie Contest".
All you have to do, is get to a Bahama Breeze, near you, have a blast, take an original, super creative selfie of yourself having a fun time, share it on Instagram, and hashtag it with #MyBBSelfie". That's seems easy enough, right? You will be entered to win a $25 gift card for Bahama Breeze, for the next time you feel the need to escape and have a fun time!