** This post contains affiliate links and I will be compensated if you make a purchase after clicking on my links. I was compensated for this post. **
Enjoy FREE Priority Shipping on Classroom Valentine and Sticker Orders $35+ with code BEMINE2019 at Minted!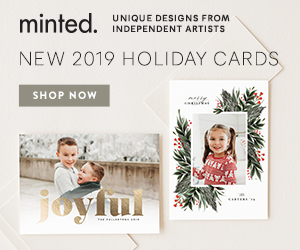 Every time I think I have it all figured out, Minted comes back and surprises me with something they offer that I never would have thought of! I guess what I should do from now on is just go ahead and check out their site before I even think about doing anything else. I mean, sure, I'm probably not going to find beef jerky there or toilet paper. But, I can find journals, stationery, an endless supply of art, calendars, invitations, some of the most unique greeting cards for every occasion (and maybe some occasions you didn't even know existed!), pillows, and the list just keeps going and going.
Well, now, I find that they have Valentines for my kid's classrooms! Not just Valentines but stickers too! As with most everything at Minted.com, you can personalize your classroom Valentines and your stickers too!
Minted's Classroom Valentine's Cards
are created by independent artists (Just like everything on Minted.com!) so, you'll be helping them with your purchase. I always loved that everything on this site is made by an independent artist because I prefer to shop small and shop often with local businesses. I feel that more of the money makes it into the right hands this way! Besides that, the quality is top-notch!
There are styles to fit every personality and age at Minted.com. Another cool thing about Minted is that when you find an artist that just totally "gets" you and you think, "Oh, wow, I have to buy more from this magical person who knows exactly what I like and knows what it's like to be me!" you can simply click on their name and VOILA! There is their photo, a bio, and an easy to search catalog of their other creations. You can even "heart" their page and share their page on your social networks.
While you're deciding which Classroom Valentines to order for your kiddos, be sure to check out Minted's Valentine Photo Cards! (You can save 15% on those right now too!) You'll want to send valentines to everybody on your Christmas card list, your entire neighborhood, you might even start going through the phone book to grab some more addresses because the cards are seriously that cool! (Does anyone even use a phone book anymore?)
So, did you find anything extra awesome at Minted? I'd be delighted to read any comments about your favorites! I'm really digging the kid's Classroom Valentines! I'm thinking about buying the cards that look like records and the "you're rad" stickers myself. My kids found quite a few they really like. So far, the "Floss like a boss" cards are winning! There are even cards for your older children who may be just way too cool for things like this. For instance, my 12-year-old daughter really thinks the card that reads, "Here's your annual piece of paper and candy" is like, the best thing ever! It fits her attitude and it is quite charming!
I think it's extra cool that they are very fairly priced and come with matching envelopes and you can personalize a lot of them! This will save a great deal of time on the night before Valentines Day! Especially if you're working with a bigger classroom or more than one classroom.
Enjoy 15% Off Valentine Photo Cards with code SENDLOVE19 at Minted!
** edited to add that while 1 or more codes may have expired, you will find a new discount/coupon code through these same links! Minted is pretty good at that kind of stuff! **